Restaurants
Grand Fiesta Americana Coral Beach Cancun All Inclusive Spa Resort is truly one of the best gastronomic alternatives in Cancun. The resort offers various restaurants and a variety of bars to choose from. The wide diversity of cuisine offered spans the traditional and modern to satisfy a range of tastes.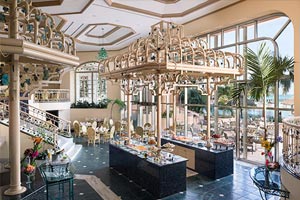 ViÑa Del Mar
Everything is grand at Viña del Mar: from the white-and-gold decor to the magnificent menu selection of international and Mexican cuisine. Diners can take in the spectacular views of the Caribbean from the outdoor terrace or the impressive bi-level indoor dining room. At night, the setting takes a dramatic tone, as the stunning operatic voices of renowned sopranos and tenors bring bel canto to life and turn dinner into an unforgettable experience.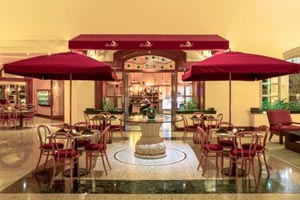 Coral CafÉ
European-style patisserie and bistro, Coral Café serves coffee along with a variety of warm and cold drinks as well as a tempting selection of sweet treats. On the savory side, light lunch and casual dinner fare are also available.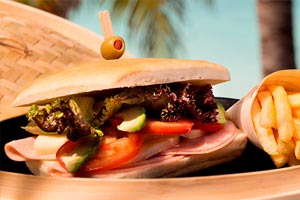 Bikini Beach & Pool
A casual al fresco spot that serves refreshing drinks and tasty light bites poolside.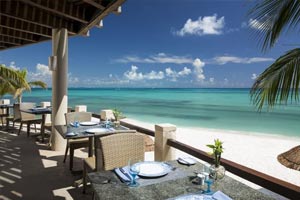 Isla Contoy
Canopied by a grand palapa and overlooking the Caribbean Sea, Isla Contoy is a casual beachfront restaurant that features fresh seafood, and Mexican favorites along with stunning seaside views.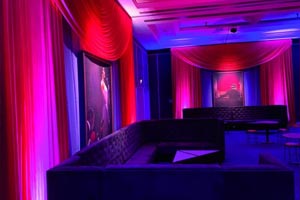 Havanna Club
Tango Show, Salsa Lessons, DJ 70s & 80s rock and pop music. A great place to gather after dinner, International open bar until 11 pm and drinks with no alcohol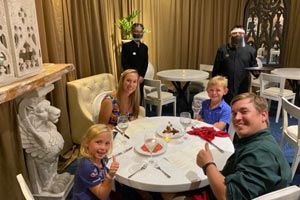 Tuscany Trattoria
Surrounded by Tuscan art and antiques. Tuscany's more formal Trattoria ambiance is the perfect dining destination for any occasion. Showcasing perennial favorites including beloved 'Antipasti' featuring smoked beef carpaccio and caprese salad, a variety of mouthwatering 'Primi's' such as risottos and fresh pasta's and classic savory 'Secondi's' featuring Braised Veal Ossco Bucco, the menu is a celebration of classic Italian Cuisine. Located just outside the Trattoria, the Terrace's offers all the classic Italian favorites in a more casual atmosphere. Here guests can dine reservation-free on individual or family-size pizzas, homemade pastas and Chicken Parmigiana, as well as the Trattoria's full menu.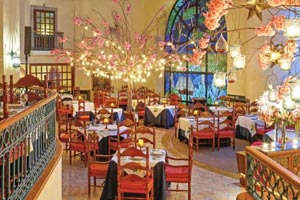 La Joya
An authentic taste of Mexico, La Joya offers award-winning, upscale Mexican cuisine while celebrating the country's traditions and people in a warm and elegant atmosphere. Vibrant nightly entertainment includes a live 10-piece Mariachi band and traditional singing along with tequila tastings to create a fun, immersive cultural experience.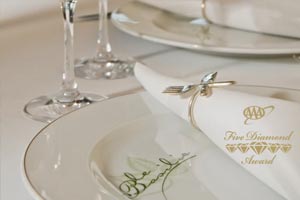 Le Basilic
One of only a few restaurants in Mexico to hold the AAA Five Diamond distinction, Le Basilic offers a French-Mediterranean menu under the guidance of Chef Henri Charvet of Paris, who holds the title of Maître Cuisine de France. Chef Charvet blends the freshness of local products with his French culinary techniques. Guests dining experiences are captured live by commissioned onsite Mexican artist who has "art to come life" against the backdrop of live piano.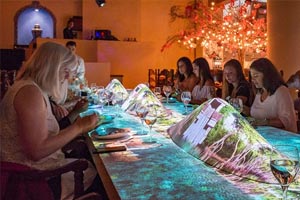 The Table
An experience truly on the culinary vanguard, The Table takes diners on a 360º interactive culinary journey through Mexico's history. The nine-course dinner with pairings is served on custom-built tables that display vivid video depicting the journey of the country's mesmerizing past, while narration and music add to the multi-sensory gastronomic adventure. $150.00 USD per person. Guest staying at Infinite Club Experiences 50% discount may apply.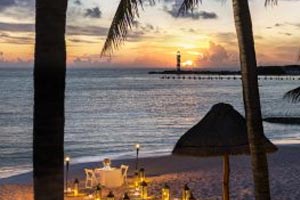 Theme Nights
Beach Cabana Diner: Four Course Gourmet menu, Wine Pairings, Private Cabana set up on the Beach. (With surcharge unless chosen from the Infinite Experiences Menu).
SPA Dinner: 1 ½ Hrs. of Hydrotherapy followed by 15 minutes. Reflexology Treatment and a four Course Gourmet Dining in Bathrobes. Beverages & Wine pairings included. (With surcharge unless chosen from the Infinite Experiences menu).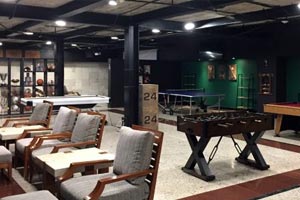 Sports Lounge
Guests can keep up with their favorite teams and catch major events while enjoying an international open bar, snacks, and stadium-inspired finger food.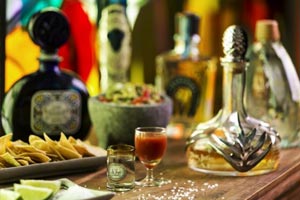 Tequila Bar at La Joya
Enjoy a cultural immersion sipping the best tequilas, Margaritas and locally crafted beer while enjoying traditional Mexican music.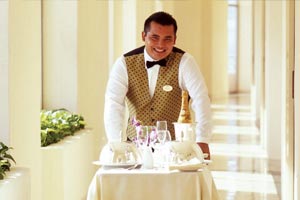 In-room Dining
Guests have the option of an extensive and delicious in-room dining menu available 24 hours. Also, the resort can arrange for special private dining experiences.